The Stephen Jones Millinery shop is situated in Covent Garden, London, and offers a wide range of services. Displaying the full current collection of 'Stephen Jones' Model Millinery hats and the diffusion lines 'Miss Jones' and 'JonesBoy', prices range from £200 - £4,500.

Stephen Jones Millinery also provides an exclusive consultation service for unique commissions, working with the client to create their ultimate hat, using the highest level of craftsmanship. Fabrics and straws can be dyed to match or co-ordinate with outfits. Hats are sized to the customer's personal head measurement.

A minimum of three weeks is required for Model Millinery, Miss Jones and JonesBoy requests. This may vary depending on time of the season.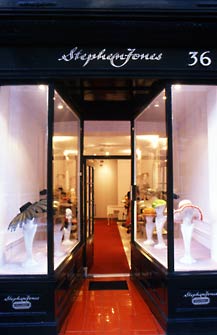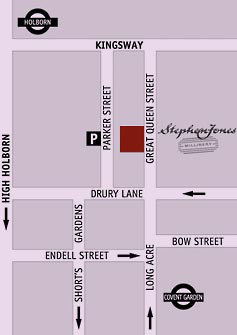 Tuesday - Friday: 11.00 AM - 6.00 PM
Thursday: 11.00 AM - 7.00 PM
Monday, Saturday and Sunday: Closed
36 Great Queen Street
Covent Garden
London
England
WC2B 5AA
Tel: +44 (0)20 7242 0770, extension 1
Fax: +44 (0)20 7242 0796