Simonetta entered my consciousness in 1976 at St Martin's School of Art, when I marvelled over her portrait in the book 'In Vogue' by Bridgit Keenan, the first fashion tome that I bought. I was fascinated by this image; she and her Vogue world seemed so urbane, exotic and glamorous - the opposite from the current punk sensibility, but even then, I had the notion that her aristocratic arched eyebrow was not so far removed from Jonny Rotten's punk sneer.
Through a curious sequence of events and people; from stylist Kim Bowen, painter Luciana Martinez, Fashion Diva Anna Piaggi to photographer Bardo Fabiani (Simonetta's son); I found myself 28 years later in her apartment in Paris. I wasn't sure if I would recognise the same icon as I had seen in the picture in Vogue, but as soon as the door opened into the drawing room, I was in no doubt. There was the Parkinson portrait; silver framed and as dynamic as I had been led to believe. We got on famously, she told me about her life so far, regaling me with tales of aventura e pericolo (adventure and danger). I told her about my life in the modern fashion world.
Later, I re-visited her in Paris and Rome where we spent hours discussing style, mood and vocation. She graciously allowed me to study her copious design archives and read her as yet unpublished autobiography. I discovered her extraordinary history; as a World War II prisoner, as one of the most celebrated Italian fashion designers of her time, moving her fashion house to Paris, and finally abandoning all this to follow her Guru to Rishikesh, India in 1969 to live in a leper colony for 30 years.
An extraordinary woman, La Prima Donna, Duchesa Simonetta Colonna di Cesaro.
Not surprisingly, I decided to base my new collection for Autumn/ Winter 04 on this remarkable lady. Unlike our mutual friend Anna Piaggi, Simonetta is not a hat fanatic. However in her archives I found many hats, in particular those of the Roman milliner Cannessa, whose trademarks of grandeur, simplicity and symmetry harmonised perfectly with Simonetta's signature style.
To place my muse in context, I sourced the milieu in Fellini's La Dolce Vita and toured the film locations of the Via Veneto, the Café de Paris and of course the Trevi Fountain. The film Roman Spring of Mrs Stone starring Vivienne Leigh was also inspirational for its sense of chic, not least because it's a wonderful piece of cinema! As Simonetta's fame and fortune was founded in America, (American Vogue /Bergdorf Goodman), I visited the vintage clothing mecca Palace Costume in Los Angeles, to study imported Italian hats of the era.
One of Simonetta's contemporaries was the seminal fashion designer Balenciaga. I referenced a folio of hat sketches I had collated in 1994 from the Balenciaga archives by Vladizio d'Attainville (the master's milliner and partner.) On Simonetta's initiative, I also did additional research on the post-war Italian design Renaissance, in particular the glassware of Venini, and the ceramics of Antonia Campi.
After weeks of stimulating discoveries inspired by a truly spectacular lady and designer, I finished my collection. It eventually comprised of 21 hats of Haute Mode and many more Miss Jones and Jonesboy styles. I put the final stitch in the black feathered top hat Satine at 2.00 a.m. on 15th February 2004. La Prima Donna Autumn/ Winter 2004 collection was shown to press and buyers that same day in London.

A beret. The T-shirt of hats, this time rendered in cheetah pattern transparent sequins, inspired by Simonetta's stunning leopard coat, created for her in 1959 by her husband the couturier Fabiani - 'The King of Cuts'.

A high-crowned hat as featured in a millinery report in Women's Wear Daily of '63. 'Tall crowned hats worn straight in Italy'. Here in ocelot printed rabbit with stitched satin. 'Cognac Sauce' was one of Simonetta's signature recipes from her cookbook 'A Snob in the Kitchen'.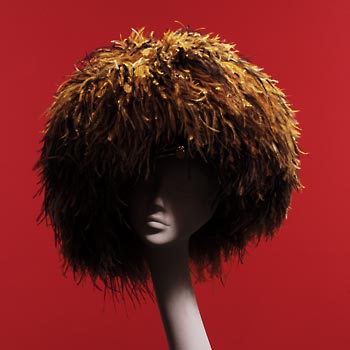 A giant pom-pom of ostrich fronds dyed in a leopard pattern and trimmed with a gold safety pin.

A high crowned velvet hat, all tied up with satin ribbons and softened with chenille spot veiling.

A favourite adjective from her autobiography. This nun's wimple is made from gold-dusted black & terracotta Italian Duchess satin.

A changeable hat. The most simple of all constructions flipped into the most dynamic of shapes. Patinated leather on fur felt.

Simonetta tells me she only wears men-styled trilbies nowadays. Maybe she'd like this one: Expresso 'Dark' mink fedora with a 'S' buckle.

Aristocratic white mink in a ghetto fabulous shape.


This fedora recalls the silhouette, colour & embroidery in Parkinson's seminal 1959 Vogue portrait of Simonetta taken in New York.

A Nefertiti inspired toque, but given a fresh twist of roses caged in veiling. Scented with the Serge Lutens perfume 'Sa Majesté la Rose'.


A poetic black and green taffeta peony headdress.

A 50's cocktail. A felt cornucopia with resin cherries. It reminds me of Simonetta's laugh.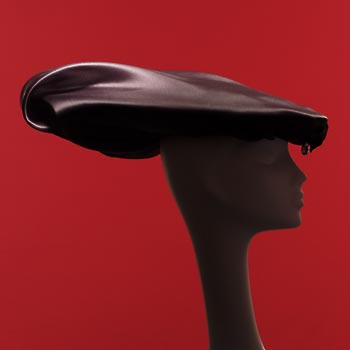 A Fabiani-ciaga satin organza aerodynamic beret with velvet bow and crystal drop.


A feather top hat with a veiled jewel in Stephen Jones' signature silhouette.

As she is! Velvet and coq feathers with a rose diamond and ruby pin.

A warning light of red taffeta and velvet roses. A classic Simonetta millinery motif.

Inspired by the oeuvre of fabulous Roman mid-century millinery maestro Cannessa. His clients included Capucci, Schuberth, Sorelle Fontana, and of course Simonetta. Here is a dramatic coiffure of velvet, veiling and sequins (the ancient currency of Venice).

High Fashion: Roman style. Inspired by the bravura drawings of Simonetta by Joe Eula for the New York Times that are displayed in her apartment in Rome; an exclamation mark in scarlet taffeta.


Another Cannessa trick, but with the volume turned up full. Bugle beaded bows on fur felt.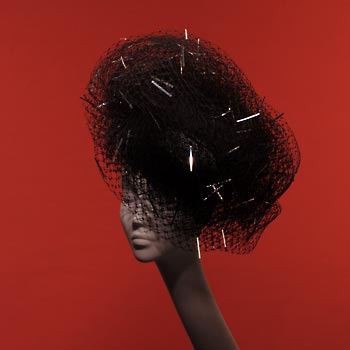 Where this is from I don't know, but she is crazy! A toque in veiling with silver strip sequins.

A Parure comprising tiara, earrings and ring, fashioned from crystal petals with white mink stamens. As opulent as Simonetta, a dramatic finale for a Duchesa.