HAT ATTACK: STEPHEN JONES INVADES DOVER STREET MARKET
Celebrating 25 years of Stephen Jones Millinery, Rei Kawakubo of Comme des Garcons invited Britain's master milliner to unleash a unique retrospective within her new London emporium, Dover Street Market.
C¼, which opened on 2nd December (and ran until 7th January 2006), saluted a maverick who has created memorable headlines for supermodels, superstars and practically every other style icon of our age. This highly unconventional exhibition, unravelling through all six floors of the building, featured hundreds of Jones's highly original creations ranging from whimsical to chic... from innovative to glamorous... from exotic to quixotic.
Site-specific installations married particular aspects of this unique setting to favourite themes from 25 years of startling creativity. For example, the sweet aromas of Rose's Bakery on the fourth floor were wittily complemented by an array of hats inspired by food and the natural world. Sensing in the market's tin hut service-point something of the foreboding captured in Alfred Hitchcock's seminal movie, The Birds, a menacing flight of his extravagantly feathered headgear was perched upon its roof. Elsewhere, Victorian glass display cases became cabinets of curiosity, housing hats rich in allegory and symbolism.
All featured hats were drawn from private clients, from the archive at Stephen Jones Millinery, and from the archives of the innumerable fashion designers with whom Jones has collaborated during his stellar career. These range from Zandra Rhodes, for whom he first designed hats in 1983, to John Galliano, for whose Dior haute-couture shows Jones has created some of the most photographed millinery of the past decade.
Dover Street Market's high fashion floor provided an apposite setting in which to present the striking fruits of such labours. Here, hats were shown with the runway outfits for which they were originally devised, eloquently articulating the creative synergy between fashion designer and milliner. There were representations of Jones's collaborations with Comme des Garcons, Basso & Brooke, Claude Montana, Thierry Mugler, Jean-Paul Gaultier, Walter Van Beirendonck, Lanvin, Balenciaga, Givenchy, Antonio Berardi, Julien Macdonald, Julie Verhoeven, Giles Deacon - plus, of course, Zandra Rhodes and John Galliano.
Stephen Jones is launching an exclusive line of women's hats for Dover Street Market. He has also devised a limited edition range of men's hats, based on his designs for Mick Jagger's current world tour, as the perfect compliment to this season's Rolling Stones-inspired Comme des Garcons Homme Plus collection.
For the duration of C¼, the basement of Dover Street Market was flooded with a tidal wave of Stephen Jones hats - each available for purchase at only £40, with one-quarter of this bargain price benefiting the MAC Aids Foundation.
"I am delighted to celebrate my quarter century in this way," says Stephen Jones. "Being so busy with the now of fashion, I have little time to talk about the past. But I completely loved the idea of an exhibition, and I am excited and honoured that it is being staged under the auspices of Rei Kawakubo as she has always been such an inspirational figure."
C¼ was at Dover Street Market, 17-18 Dover Street, London W1 (020 7518 0680) from 2nd December 2005 until 7th January 2006.
Above: Fourth floor at DSM (right) / Third floor at DSM (left)
Above: Second floor at DSM
Above: First floor at DSM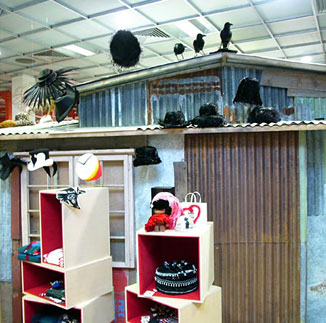 Above: Ground floor at DSM
Above: Basement at DSM
CAROUSEL
001
Collection: South S/S 2003
Hat name: Striking
Style: Top hat
Colour: Natural
Fabric: Wood
002
Collection: Travelogue A/W 2005
Hat name: London
Style: Top hat
Colour: Navy
Fabric: Straw
003
Collection: South S/S 2003
Hat name: Le Dix
Style: Pill box
Colour: Black
Fabric: Satin
004
Collection: South S/S 2003
Hat name: Par Avion
Style: Beret
Colour: Multi
Fabric: Satin
005
Collection: Blah Blah Blah A/W 2000
Hat name: Abstract
Style: Toque
Colour: Multi
Fabric: Canvas
006
Collection: Legasty S/S 1995
Hat name: Goldfish
Style: Cap
Colour: Gold
Fabric: Plastic
007
Collection: Poseur A/W 2003
Hat name: Pinky
Style: Breton
Colour: Blue
Fabric: Velvet
008
Collection: Santa's Claws S/S 1998
Hat name: Santa Banana
Style: Boater
Colour: Blue
Fabric: Plastic
009
Collection: Millinery Computer A/W 1998
Hat name: Cork St
Style: Headdress
Colour: Blue
Fabric: Nylon
010
Collection: Celebration! A/W 1999
Hat name: "Show Time"
Style: Top hat
Colour: Blue
Fabric: Sequin
011
Collection: Souvenirs S/S 1993
Hat name: Chapeau
Style: Toque
Colour: Yellow
Fabric: Satin
012
Collection: For the Heart of Woman and the Soul of Man A/W 1985
Hat name: Pas des Deux
Style: Headdress
Colour: Multi
Fabric: Velvet
013
Collection: Passion on the Pampas S/S 1990
Hat name: Rose Venus
Style: Boater
Colour: Pink
Fabric: Lace
014
Collection: Celebration! A/W 1999
Hat name: Witching Hour
Style: Top hat
Colour: Black
Fabric: Jacquard
015
Collection: Celebration! A/W 1999
Hat name: Alarm
Style: Beret
Colour: Blk & Wht
Fabric: Glass
016
Collection: Contours A/W 1996
Hat name: Rose Royce
Style: Top hat
Colour: Red
Fabric: Velvet
017
Collection: High S/S 2002
Hat name: Clock
Style: Tiara
Colour: Silver
Fabric: Glass
018
Collection: Pic'n'mix S/S 1999
Hat name: Chelsea
Style: Beret
Colour: White
Fabric: Taffeta
019
Collection: Icon S/S 2001
Hat name: T&F
Style: Toque
Colour: Blk & Wht
Fabric: Taffeta
020
Collection: Icon S/S 2001
Hat name: Warped Perspective
Style: Cap
Colour: Multi
Fabric: Plastic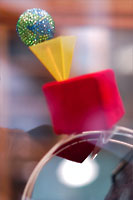 021
Collection: E=MC2 S/S 1998
Hat name: Creation
Style: Headdress
Colour: Multi
Fabric: Suede
022
Collection: E=MC2 S/S 1998
Hat name: Aether
Style: Headdress
Colour: Multi
Fabric: Glass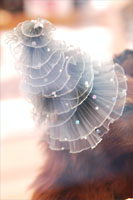 023
Collection: North A/W 2002
Hat name: Stella
Style: Toque
Colour: Green
Fabric: Tulle
024
Collection: North A/W 2002
Hat name: Tennents
Style: Flower
Colour: Yellow
Fabric: Silk
025
Collection: Poseur A/W 2003
Hat name: Paola
Style: Boater
Colour: Black
Fabric: Plastic
026
Collection: Poseur A/W 2003
Hat name: Ulle
Style: Tiara
Colour: Multi
Fabric: Paper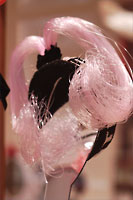 027
Collection: Forty five degrees A/W 1989
Hat name: The Queen of Outer Space
Style: Bandana
Colour: White
Fabric: Nylon
028
Collection: Poseur A/W 2003
Hat name: Myra
Style: Mohican
Colour: Peach
Fabric: Plastic
029
Collection: Celebration! A/W 1999
Hat name: Nirvana
Style: Toque
Colour: Purple
Fabric: Plastic
030
Collection: Murder by Millinery A/W 1997
Hat name: Swing
Style: Headdress
Colour: Silver
Fabric: Glass
031
Collection: Miss World S/S 1994
Hat name: Morrocan Bizarre
Style: Fez
Colour: Grey
Fabric: Plastic
032
Collection: Point Zero A/W 1985
Hat name: Mounia
Style: Headdress
Colour: Purple
Fabric: Plastic
033
Collection: Les Girls A/W 1995
Hat name: Carol Channing
Style: Torso
Colour: Black
Fabric: Velvet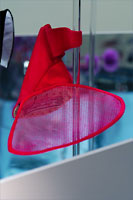 034
Collection: Sunset on Suburbia S/S 1988
Hat name: Waimea
Style: Cap
Colour: Pink
Fabric: Net
035
Collection: Millinery Computer A/W 1998
Hat name: Soho
Style: Trilby
Colour: Silver
Fabric: Metal
036
Collection: Celebration! A/W 1999
Hat name: Bubble
Style: Cone
Colour: Pink
Fabric: Satin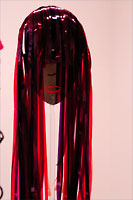 037
Collection: North A/W 2002
Hat name: Roxette
Style: Wiglet
Colour: Wine
Fabric: Plastic
038
Collection: Murder by Millinery A/W 1997
Hat name: Charade
Style: Top hat
Colour: Black
Fabric: Crystal
039
Collection: Jubilee A/W 2005
Hat name: Carnival
Style: Tricorne
Colour: Lilac
Fabric: Velvet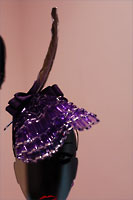 040
Collection: Jubilee A/W 2005
Hat name: Marquise D'Orsay
Style: Cap
Colour: Purple
Fabric: Plastic
041
Collection: Jubilee A/W 2005
Hat name: Master/Mistress
Style: Top hat
Colour: Lilac
Fabric: Plastic
BIRDS
042
Collection: Untitled '96 S/S 1996
Hat name: Seagull
Style: Cap
Colour: White
Fabric: Grosgrain
043
Collection: Pic'n'mix S/S 1999
Hat name: Ladies Day
Style: Beret
Colour: White
Fabric: Feather
044
Collection: SJ/Balenciaga S/S 1991
Hat name: Mercury
Style: Turban
Colour: Ecru
Fabric: Gazar
045
Collection: Norma Desmond Lives A/W 1992
Hat name: Rookery
Style: Beret
Colour: Brown
Fabric: Feather
046
Collection: La Prima Donna A/W 2004
Hat name: Untamed
Style: Cap
Colour: Camel
Fabric: Feather
047
Collection: Icon S/S 2001
Hat name: Shoal
Style: Beret
Colour: White
Fabric: Feather
048
Collection: Travelogue S/S 2006
Hat name: Melbourne
Style: Fascinator
Colour: Beige
Fabric: Feather
049
Collection: Contours A/W 1996
Hat name: Chicken Tonite
Style: Cloche
Colour: Brown
Fabric: Feather
050
Collection: Passion on the Pampas S/S 1990
Hat name: Nest
Style: Cartwheel
Colour: Bronze
Fabric: Feather
051
Collection: Norma Desmond Lives A/W 1992
Hat name: Feather Brain
Style: Cloche
Colour: Brown
Fabric: Feather
052
Collection: SHE S/S 1987
Hat name: Trawler
Style: Cap
Colour: Black
Fabric: Nylon
053
Collection: Les Girls A/W 1995
Hat name: Helicopter
Style: Cartwheel
Colour: Black
Fabric: Feather
054
Collection: In Orbit A/W 1990
Hat name: Gemini
Style: Cavalier
Colour: Black
Fabric: Satin
055
Collection: Millinery Computer A/W 1998
Hat name: Tickle
Style: Cloche
Colour: Black
Fabric: Feather
056
Collection: Contours A/W 1996
Hat name: K.F.C.
Style: Cloche
Colour: Black
Fabric: Feather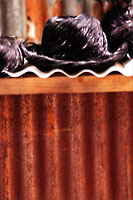 057
Collection: Millinery Computer A/W 1998
Hat name: Swan Lake
Style: Trilby
Colour: Black
Fabric: Feather
058
Collection: Les Girls A/W 1995
Hat name: Vertigo
Style: Cloche
Colour: Black
Fabric: Feather
059
Collection: Rococo Futura A/W 1994
Hat name: Castor
Style: Toque
Colour: Black
Fabric: Feather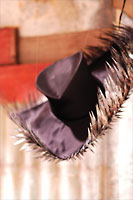 060
Collection: E=MC2 S/S 1998
Hat name: Velocity
Style: Cavalier
Colour: Black
Fabric: Satin
061
Collection: Travelogue S/S 2006
Hat name: Acapulco
Style: Wiglet
Colour: Black
Fabric: Feather
062
Collection: Murder by Millinery A/W 1997
Hat name: Capricious
Style: Top hat
Colour: Black
Fabric: Satin
063
Collection: North A/W 2002
Hat name: Emperor
Style: Top hat
Colour: Black
Fabric: Felt
064
Collection: North A/W 2002
Hat name: Puffy
Style: Beret
Colour: Multi
Fabric: Satin
065
Collection: North A/W 2002
Hat name: Tbird
Style: Headdress
Colour: Black
Fabric: Felt
066
Collection: La Prima Donna A/W 2004
Hat name: Satine
Style: Top hat
Colour: Black
Fabric: Feather
067
Collection: La Prima Donna A/W 2004
Hat name: Coquette
Style: Toque
Colour: Pink
Fabric: Feather
068
Collection: Nursery S/S 2000
Hat name: Polly
Style: Headdress
Colour: Multi
Fabric: Feather
069
Collection: South S/S 2003
Hat name: Voo Doo
Style: Cartwheel
Colour: Multi
Fabric: Feather
FOYER
070
Collection: Blah Blah Blah A/W 2000
Hat name: AWOL
Style: Top hat
Colour: Black
Fabric: Tulle
HORIZON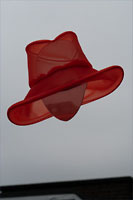 071
Collection: Nursery S/S 2000
Hat name: Flood
Style: Sou'wester
Colour: Orange
Fabric: Crin
072
Collection: Passport to Pleasure S/S 1986
Hat name: Strawberry Shortcake
Style: Cloche
Colour: Multi
Fabric: Plastic
073
Collection: Lotus Eaters S/S 1997
Hat name: Mist
Style: Cloche
Colour: Raspberry
Fabric: Tulle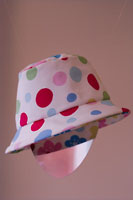 074
Collection: Nursery S/S 2000
Hat name: Wonder
Style: Cloche
Colour: Multi
Fabric: Cotton
075
Collection: SHE S/S 1987
Hat name: I Scream
Style: Cap
Colour: Multi
Fabric: Plastic
076
Collection: Hollywood Regency S/S 2004
Hat name: French Fancy
Style: Cloche
Colour: Multi
Fabric: Satin
077
Collection: Legasty S/S 1995
Hat name: Mr Whippy
Style: Cartwheel
Colour: White
Fabric: Satin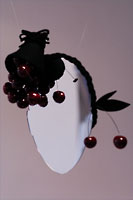 078
Collection: La Prima Donna A/W 2004
Hat name: Cherry Flip
Style: Headdress
Colour: Red
Fabric: Felt
079
Collection: Travelogue S/S 2006
Hat name: Torres Strait
Style: Headdress
Colour: Ecru
Fabric: Wood
080
Collection: Room Service A/W 1988
Hat name: Onion Soup
Style: Toque
Colour: Silver
Fabric: Leather
081
Collection: Room Service A/W 1988
Hat name: Florette
Style: Headdress
Colour: Green
Fabric: Organza
082
Collection: Glamé A/W 1991
Hat name: Engagement
Style: Toque
Colour: Beige
Fabric: Satin
083
Collection: Legasty S/S 1995
Hat name: Anenomefish
Style: Cloche
Colour: Orange
Fabric: Straw
084
Collection: Icon S/S 2001
Hat name: Venus
Style: Beret
Colour: Pink
Fabric: Organza
085
Collection: Murder by Millinery A/W 1997
Hat name: Serengeti 1935
Style: Beret
Colour: Beige
Fabric: Felt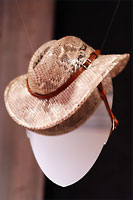 086
Collection: Travelogue S/S 2006
Hat name: Saigon
Style: Mini Trilby
Colour: Beige
Fabric: Snake
087
Collection: Xanadu A/W 1993
Hat name: Soiree Scarabee
Style: Cloche
Colour: Beige
Fabric: Plastic
088
Collection: In Orbit A/W 1990
Hat name: Funk the Flame
Style: Headdress
Colour: Red
Fabric: Silk
089
Collection: Rococo Futura S/S 1993
Hat name: Wash'n'Go
Style: Cloche
Colour: Transparent
Fabric: Plastic
090
Collection: North A/W 2002
Hat name: Iceberg
Style: Cloche
Colour: White
Fabric: Felt
091
Collection: Celebration! A/W 1999
Hat name: Panorama
Style: Cloche
Colour: Greens
Fabric: Tulle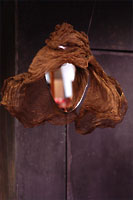 092
Collection: Rococo Futura S/S 1994
Hat name: Sun In
Style: Cloche
Colour: Khaki
Fabric: Silk
093
Collection: Norma Desmond Lives A/W 1992
Hat name: Kay Kendall
Style: Beret
Colour: Reds
Fabric: Wool
094
Collection: Celebration! A/W 1999
Hat name: Primative
Style: Cloche
Colour: Brown
Fabric: Suede
095
Collection: Celebration! A/W 1999
Hat name: Verglas
Style: Headdress
Colour: Red
Fabric: Resin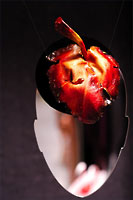 096
Collection: Celebration! A/W 1999
Hat name: Sirop
Style: Headdress
Colour: Red
Fabric: Leather
097
Collection: Celebration! A/W 1999
Hat name: Damn that feels Good!
Style: Headdress
Colour: Greens
Fabric: Wood
GREEN MAN
098
Collection: South S/S 2003
Hat name: Kona Ka'I
Style: Toque
Colour: Green
Fabric: Straw
099
Collection: Nursery S/S 2000
Hat name: Rain Forest Crunch
Style: Headdress
Colour: Greens
Fabric: Silk
100
Collection: Nursery S/S 2000
Hat name: Gitte
Style: Headdress
Colour: Green
Fabric: Plastic
101
Collection: Celebration! A/W 1999
Hat name: Expression
Style: Cloche
Colour: Beige
Fabric: Felt
102
Collection: Nursery S/S 2000
Hat name: Long Grain
Style: Toque
Colour: Green
Fabric: Organza
103
Collection: South S/S 2003
Hat name: Papale
Style: Headdress
Colour: Greens
Fabric: Leather
104
Collection: SJ/W&LT
Hat name: Creepy Crawly
Style: Headdress
Colour: Green
Fabric: Georgette
105
Collection: Souvenirs S/S 1993
Hat name: Kon-Tiki
Style: Cap
Colour: Beige
Fabric: Wood
106
Collection: Nursery S/S 2000
Hat name: Lotus Elan
Style: Headdress
Colour: Green/Pink
Fabric: Silk
107
Collection: South S/S 2003
Hat name: Myth
Style: Headdress
Colour: Beige
Fabric: Feather
108
Collection: Nursery S/S 2000
Hat name: Daffy
Style: Cloche
Colour: Yellow
Fabric: Silk
109
Collection: Celebration! A/W 1999
Hat name: Diamond Necklace
Style: Trilby
Colour: Grey
Fabric: Leather
110
Collection: Nursery S/S 2000
Hat name: Victoria Amazonica
Style: Boater
Colour: Green
Fabric: Leather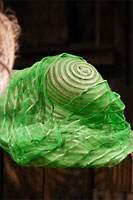 111
Collection: Shriek with Chic S/S 1991
Hat name: Hue
Style: Sun hat
Colour: Green
Fabric: Nylon
112
Collection: Souvenirs S/S 1993
Hat name: Bali-Hi
Style: Turban
Colour: Beige
Fabric: Wood
COLLABORATIONS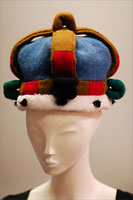 113
Collection: Vivienne Westwood A/W1987
Hat name: Harris Tweed
Style: Crown
Colour: Multi
Fabric: Wool
114
Collection: Claude Montana A/W 1991
Hat name: Hôtesse de l'Air
Style: Cap
Colour: Navy
Fabric: Wool
115
Collection: Lanvin by Claude Montana S/S 1990
Hat name: Peach Flip
Style: Cap
Colour: Peach
Fabric: Chiffon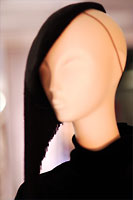 116
Collection: Giles A/W 2005
Hat name: Lashes
Style: Beret
Colour: Black
Fabric: Velvet
117
Collection: Zandra Rhodes A/W 1982
Hat name: Turkish Delight
Style: Snood
Colour: White
Fabric: Wool
118
Collection: W&LT A/W 1997
Hat name: Buggin' Out
Style: Headdress
Colour: Green
Fabric: Georgette
119
Collection: Julien McDonald S/S 2002
Hat name: Towering Flowerfurno
Style: Headdress
Colour: Multi
Fabric: Polyester
120
Collection: Julie Verhoeven for Gibo A/W 2004
Hat name: Artiste
Style: Beret
Colour: Multi
Fabric: Canvas
121
Collection: Basso & Brooke A/W 2005
Hat name: Trap Her
Style: Mask
Colour: Red
Fabric: Suede
122
Collection: Antonio Berardi S/S 2005
Hat name: Homework
Style: Headdress
Colour: Brown
Fabric: Paper
123
Collection: Jean-Paul Gautier A/W 1984
Hat name: Mystere
Style: Masks
Colour: Green/Red
Fabric: Felt
124
Collection: Comme des Garcons A/W 1985
Hat name: Oval
Style: Beret
Colour: White
Fabric: Felt
125
Collection: Dior by John Galliano A/W 2002
Hat name: Mohican
Style: Peruvian
Colour: Multi
Fabric: Wool
126
Collection: Dior by John Galliano A/W 2002
Hat name: Mohican
Style: Peruvian
Colour: Nat/Blue
Fabric: Wool
127
Collection: Givenchy A/W 1996
Hat name: Flash
Style: Headdress
Colour: Black
Fabric: Satin
128
Collection: Dior by John Galliano S/S 2003
Hat name: ME ME ME
Style: Headress
Colour: Silver
Fabric: Feather
129
Collection: Thierry Mugler A/W 1984
Hat name: Techniciens du Ciel
Style: Balaclava
Colour: White
Fabric: Wool
130
Collection: John Galliano A/W 1995
Hat name: Satan's Tongue
Style: Beret
Colour: Black
Fabric: Wool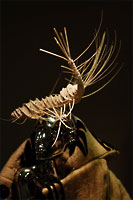 131
Collection: John Galliano A/W 1999
Hat name: Fish Bone
Style: Headdress
Colour: White
Fabric: Paper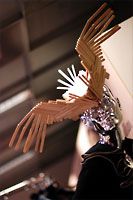 132
Collection: John Galliano A/W 1996
Hat name: Thunderbird
Style: Headdress
Colour: Natural
Fabric: Wood
HANDMADE IN ENGLAND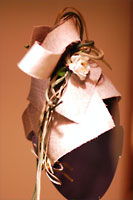 133
Collection: Handmade in England S/S 2005
Hat name: Folly
Style: Cap
Colour: Grey
Fabric: Straw
134
Collection: Handmade in England S/S 2005
Hat name: Curioser and Curioser
Style: Bowler
Colour: Red
Fabric: Straw
135
Collection: Handmade in England S/S 2005
Hat name: Fayre
Style: Boater
Colour: Ecru
Fabric: Crin
136
Collection: Handmade in England S/S 2005
Hat name: Ex Corona ad Astra
Style: Headdress
Colour: Brown
Fabric: Felt
137
Collection: Handmade in England S/S 2005
Hat name: Fortune
Style: Cornucopia
Colour: Multi
Fabric: Straw
138
Collection: Handmade in England S/S 2005
Hat name: Breakfast
Style: Beret
Colour: Multi
Fabric: Wool
139
Collection: Handmade in England S/S 2005
Hat name: R.H.S.
Style: Platter
Colour: Multi
Fabric: Straw
140
Collection: Handmade in England S/S 2005
Hat name: 1st Prize
Style: Gardening
Colour: Ecru
Fabric: Cotton
141
Collection: Handmade in England S/S 2005
Hat name: Open Road
Style: Cap
Colour: Green
Fabric: Straw
142
Collection: Handmade in England S/S 2005
Hat name: Sew & Sew
Style: Gardening
Colour: Beige
Fabric: Hessian
143
Collection: Handmade in England S/S 2005
Hat name: May Queen
Style: Tiara
Colour: Multi
Fabric: Glass
144
Collection: Handmade in England S/S 2005
Hat name: Jack o'Green
Style: Mask
Colour: Green
Fabric: Organza
145
Collection: Handmade in England S/S 2005
Hat name: Brenda
Style: Toque
Colour: Red
Fabric: Straw
146
Collection: Handmade in England S/S 2005
Hat name: Maypole
Style: Top hat
Colour: Grey
Fabric: Grosgrain
147
Collection: Handmade in England S/S 2005
Hat name: Still Life
Style: Headdress
Colour: Pink
Fabric: Tulle
148
Collection: Handmade in England S/S 2005
Hat name: Centre Court
Style: Boater
Colour: Green
Fabric: Straw
149
Collection: Handmade in England S/S 2005
Hat name: Regatta (photo)
Style: Boater
Colour: Navy
Fabric: Straw
150
Collection: Handmade in England S/S 2005
Hat name: Presentation
Style: Headdress
Colour: Transparent
Fabric: Plastic
151
Collection: Handmade in England S/S 2005
Hat name: Favourite
Style: Toque
Colour: Black
Fabric: Straw
152
Collection: Murder by Millinery A/W 1997
Hat name: Tally Ho
Style: Top hat
Colour: Red
Fabric: Wool
153
Collection: Handmade in England S/S 2005
Hat name: Footy
Style: Pull on
Colour: Red/Wht/Blue
Fabric: Wool
154
Collection: Handmade in England S/S 2005
Hat name: Alice
Style: Headdress
Colour: Red/Wht/Blue
Fabric: Rayon
155
Collection: Handmade in England S/S 2005
Hat name: Glorianna
Style: Top hat
Colour: Red/Wht/Blue
Fabric: Cotton
METEOROLOGY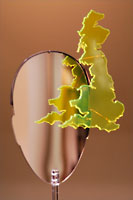 156
Collection: High S/S 2002
Hat name: Blighty
Style: Headdress
Colour: Green
Fabric: Plastic
157
Collection: High S/S 2002
Hat name: Gold
Style: Bowler
Colour: Multi
Fabric: Felt
158
Collection: High S/S 2002
Hat name: Droplet
Style: Boater
Colour: Silver
Fabric: Metal
159
Collection: High S/S 2002
Hat name: Cloudburst
Style: Headdress
Colour: Transparent
Fabric: Glass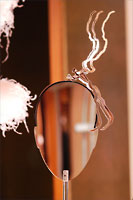 160
Collection: High S/S 2002
Hat name: Lightening
Style: Headdress
Colour: Mirror
Fabric: Plastic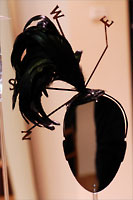 161
Collection: High S/S 2002
Hat name: Vain
Style: Headdress
Colour: Green
Fabric: Feather
162
Collection: Handmade in England S/S 2005
Hat name: Union Jack
Style: Bowler
Colour: Red/Wht/Blue
Fabric: Felt
CLOUD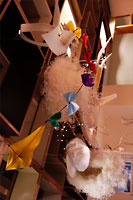 163
Collection: 1998 - 2004
Hat name: Selection of hats
Style: Mixed
Colour: Whites
Fabric: Mixed
STEVIE'S CHAPEAUX BOO-TIQUE
164
Collection: 1987 - 2004
Hat name: Selection of hats
Style: Mixed
Colour: Multi
Fabric: Mixed
ALAIA
165
Collection: Poseur A/W 2003
Hat name: Dinny
Style: Headdress
Colour: Black/Jade
Fabric: Leather
166
Collection: La Prima Donna A/W 2004
Hat name: Cognac Sauce
Style: Toque
Colour: Brown
Fabric: Fur
167
Collection: La Prima Donna A/W 2004
Hat name: Stunning
Style: Beret
Colour: Brown
Fabric: Sequin
168
Collection: Murder by Millinery A/W 1997
Hat name: Agatha
Style: Trilby
Colour: Grey
Fabric: Felt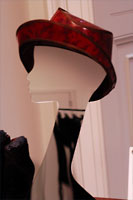 169
Collection: Murder by Millinery A/W 1997
Hat name: Conclusion
Style: Trilby
Colour: Brown
Fabric: Plastic
170
Collection: Glamé A/W 1991
Hat name: Lucky Dip
Style: Toque
Colour: Black
Fabric: Velvet/lace
171
Collection: Queens A/W 2001
Hat name: Pat Cleveland
Style: Headdress
Colour: Black/Red
Fabric: Felt
172
Collection: La Prima Donna A/W 2004
Hat name: Blazé
Style: Toque
Colour: Red
Fabric: Felt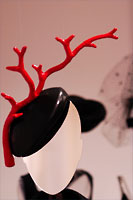 173
Collection: Queens A/W 2001
Hat name: Flair
Style: Beret
Colour: Black
Fabric: Leather
174
Collection: La Prima Donna A/W 2004
Hat name: Drama
Style: Beret
Colour: Black
Fabric: Organza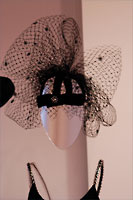 175
Collection: La Prima Donna A/W 2004
Hat name: Ego
Style: Headdress
Colour: Black
Fabric: Veiling
176
Collection: Queens A/W 2001
Hat name: Elena
Style: Cap
Colour: Black
Fabric: Leather
177
Collection: First Collection A/W 1980
Hat name: Gerlinde
Style: Trilby
Colour: Black
Fabric: Felt
178
Collection: La Prima Donna A/W 2004
Hat name: Alta Moda
Style: Headdress
Colour: Red
Fabric: Velvet
179
Collection: Blah Blah Blah A/W 2000
Hat name: Prequel
Style: Cloche
Colour: Black
Fabric: Plastic
COMME DES GARCONS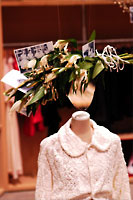 180
Collection: Comme des Garcons Broken Bride A/W 2005
Hat name: Lily
Style: Headdress
Colour: White
Fabric: Flower
181
Collection: Comme des Garcons Broken Bride A/W 2005
Hat name: Pussy Willow
Style: Headdress
Colour: Natural
Fabric: Branches
182
Collection: Broken Bride A/W 2005
Hat name: Hazel
Style: Headdress
Colour: Brown
Fabric: Branches