In Sept of 1996, Bernard Arnault announced that John Galliano was going to be the new designer at Christian Dior. The fashion world was amazed, he had been at Givenchy just one year and no-one (least of all me), had any inkling that he would be going to Dior, the most prestigious Haute Couture House in the world.

The announcement was greeted with praise by some and scepticism by others (quell horreur, an Englishman at the helm of France's most famous fashion house etc.), but as soon as he showed his first collection all realized what a winning combination this could be. John's wild talent combined with Dior's resources resulted in some of the most beautiful and extraordinary fashions of the decade, whilst reviving the name and style of Christian Dior to a new generation worldwide.

I had been working with Amanda Grieve, the late Steven Robinson, and Bill Gaytten at Givenchy, and was invited to join the team and be the Milliner at Dior. For me it was a dream come true. Walking onto the grey carpet and up the staircase in the Avenue Montaigne, remembering all those famous pictures of Marlene Dietrich, Rita Hayworth, Cocteau and Monsieur Dior himself sitting on those stairs. Continuing up to the Atelier Mode in the attics, where wooden hat blocks dating from the New Look collection of spring '47 were stored in serried ranks. Since then I have made hats for diverse collections; Prêt-a-porter, Cruise, pre-collection, Golf, Ski, Surf and not forgetting Baby Dior too. But without question the most important is the Haute Couture where millinery dreams come true. Here I could give my imagination extravagant rein. A two metre hat of paradise feathers? No problem. Taxidermied game? Perfect for Versailles. One hundred hours of embroidery on a minxy beret? Pourquoi pas? I always say that the most beautiful hat can be made from a twist of tissue paper, but how much nicer it is in Kolinsky sable.

For me, the design process started about six weeks before the show. There would have frequently been a research trip (Peru, Italy, China etc.), and I would have started to think about a head which might fit with the season. It might be the ethnic hats of the country, but equally the culture, customs or fine arts. Alternatively it might be regional TV programmes or a candy wrapper. The collection is then in its embryonic state and I go to Paris for a meeting with the crew. First of all it's chit-chat and catching up, because great hats are based in friendship and trust, for although on the programme for the show the credit reads; "Chapeaux crée par Stephen Jones", they are a group effort. On my return to London I will start my research too. Leafing through my library, trawling the internet, talking to experts and doing interviews, I compose concept boards of different themes divided by silhouette, texture, fabric, inspiration or just millinery frivolities. And sketch. Hundreds of sketches. Sketches that blend all those disparate elements together. After this, I will go to Paris and I'll present my ideas to the team. A collection is always work in progress, so I might be on target or over the weekend the mood of the collection might have changed from 19th century African to techno/literary. However we select toiles to be made and a few days later show maybe twenty possible silhouettes. At the same time I am researching materials and trims. One of the joys of working in Paris are the artisans with which I work. Monsieur Ré who sculpts the wooden blocks on which we mould fabrics, Monsieur Carel who is a carcassier and constructs wire filigree shapes which can exist as their own delicate tracery or form the superstructure of a hat. Atelier Veroliv who with computer-like accuracy work in resins and plastics, Cherie Bibi who stretch felts and cottons and Joscar who are wizards with organza and tulle. This work is co-ordinated from my workroom by my premiere Silvana which is where the hats are assembled and trimmed.

Over the weeks leading to the collection I am in fittings, changing crown heights and tweaking brims. Especially important and unique to the design process is the day of 'Dressing Up', where the silhouette and overall look of the collection is confirmed. About ten days before the show I have a very early morning meeting when we finally decide on the hats, fabrics and trims. Crazily enough this time also coincides with the showing of the mid-season Dior Prêt-a-porter collection, men's shows; the days blur into one. Two days before the show the model girls arrive in Paris from all over the world. We all rush to get the hats ready for the fitting which is decided by when her dress will be ready. By this time I am working on autopilot with total concentration. Each girl is pinned into her outfit by the premier of the workroom responsible, then shoes. Jewellery and furs are added. Last of all it is my turn, and I pin on the hat or headdress and try various angles and adjust veiling flowers and feathers. The hat becomes totally different when it is worn and I must fit it to the personality of girls outfit. Then she sweeps into the main studio dressed for approval. If all goes well the hat can then be finished but often things need to be re-worked or re-trimmed up until the very last second before she takes her place on the haute couture runway...

After John's sad departure from Dior the talented Bill Gaytten was brought forward from the ranks to be the creative director. I had worked side by side with Bill since '93 when I first encountered him throwing a glass of red wine on white satin to find the exact colour of pink. His architectural taste and respect for Monsieur Dior was a hit with the clients and sales soared.

However Bill's tenure was only ever temporary and on the 11th of April 2012 it was announced after much speculation that Raf Simons would become the creative director of Dior. I was thrilled as we had known each other for a long time and had recently collaborated at Jil Sander in Milan. His modernist aesthetic captured the fashion world, desperate for something new and exciting. A new era was upon me of veils, bonnets and even scarves!
Extravagant shapes; the essence of haute couture.
1) For John's first Haute Couture show in the Grand Hotel, Shalom Harlow models an exclamation mark of lily of the valley, Monsieur Dior's favorite flower, but brought up to date in lacquer red.
2) This wooden trilby incorporating Congolese figures was sculpted by Monsieur Ré, Dior's blockmaker, from a single piece of samba wood.
3) Extravagant prêt a porter too repeating the Haute Couture shape, a trilby fashioned from hair and antique lacquer combs.
4) This fabulous picture in French Vogue by Helmut Newton sums up the heady eroticism of the Bagatelle show.
5) She's in Paradise.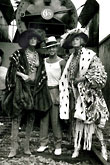 Romantic sweeping shapes, hats that are lyrical and beautiful.
1) A huge painterly straw perched on the head of a lovely in the Opera show. Vaporous 'tulle maline' from the '30's softens the silhouette.
2) Carmen Kass in prêt-a-porter. Just. A similar silhouette but in glass beads.
3) Vintage paradise feathers and Beatonesque flowers from the flea market coif Ayako.
4) John and girls in front of the Diorent Express. Tudor gaufré velvet in voluminous berets in 40 degrees!
5) At the same show Naomi bagged this native American headdress of eagle feathers and Lesage embroidery.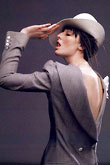 Smaller more funky, the new couture.
1) Erin in a surrealist jacket and geometric trilby. When Celine Dion wore this to the Oscars she was ridiculed!
2) An amazingly simple Chairman Mao cap, in this evocative drawing by Gladys Pereint Palmer.
3) This was the start of the new couture, both in cut and attitude.
4) Big trouble at Versailles. At this innovative show I made hats out of vintage taxidermied animals. Anti-fur groups in the UK were not happy, but I thought the animals and birds looked beautiful.
5) The debut of Dior commercial hats too. Mr. Galliano's flat cap worn by Michele Hicks.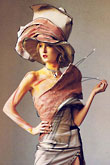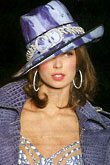 Wild & artistic.
1) Volumes get bigger in this deconstructed hand painted top hat.
2) The jockeys and I. Jockey caps mixed with 17th century fontages in '30's fabrics and military detailing. Phew!
3 & 4) The most beautiful of shows. The Freud collection was shown on different characters. In mauve straw, flowers and tulle, is 76 year old supermodel Carmen Dell'Orifice.
5) Bling! Love those initials, this time in pavé rhinestones.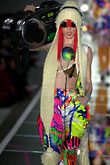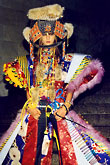 Pop Bang Whizzzz. Crazy Colour.
1) J'adore that Haute Couture plastic Rainmate!!!
2) Fairy light haloes. Why not?
3) Rave-o-lution.
4) Made the mask too.
5) Inspired by Thai hill tribe headdresses, but worn with Japanese doll outfits, this hat was snapped backstage by Martin Parr and later by Patrick Demarchelier for American Vogue using a naked Ben Stiller as a model!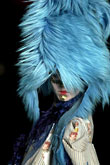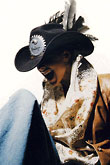 The most fabulous textures.
Silk petals, yak fur, pheasant feathers, metal quills and uncarded wool for the most photographed hat of the year. It referenced a Peruvian helmet but John & I couldn't stop and just carried on knitting!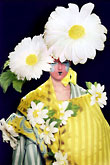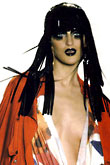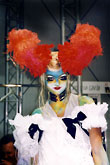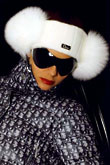 Headlights and headlines.
What is it about doing something twice that makes it ten times as good?
1) Giant cotton daisies at the Chinese Haute Couture show.
2) Flippy fake fringe in black plastic. Suzy Menkes said of this show, "sometimes going to a Dior show is like surfing the internet too quickly"!
3) Giant Toulouse Lautrec horns of feathers with wild make-up by Pat McGrath for the Dance fashion show.
4) Rubber sweet peas anyone? Again with Pat's genius make-up.
5) The first ski collection for Dior. Glam X 2.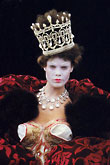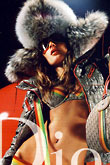 The wildest extravagances; haute haute haute.
1) Woof! The most over the top show ever, The Egyptian. Here a resin and gold leaf Anubis is clad in turquoise crocodile and a Lesage collar.
2) An Egyptian Ra headdress in metal, made by Monsieur Carel my fabulous carcassier.
3) Also in metal and pearls this Crown from the Queen's winter Haute Couture. It was so expensive to make, it might have as well been real!
4) By now a classic Dior silhouette. A giant Russian Chapka in silver fox on Brazilian babe Gisele.
5) Ghettofabulous. Fur but now in print. From a mid season collection, gold dice trim a '50's leopard print trilby.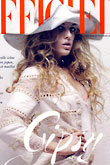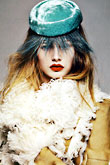 A year of soft silhouettes. Velvet, felt, shearling and feathers.
1) In a Renaissance velvet beret, Malgosia looks picture perfect.
2) Riley Presley in a simple upturned felt.
3) Stella Tennant as the ghost of Dior's mother.
4 & 5) Prêt-a-porter hats have a simpler aesthetic but no less attitude.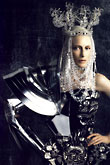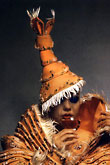 Moodswings. Did you really think it would be predictable?
1) This show was based on the writings of the Marquis de Sade. Can't you tell?
2) A simple cap repeats the detailing of the It bag the 'Gaucho'.
3) Baby Dior. A cute denim cap with fluo orange detailing.
4) Superstar. Cate wears the armor that John asked me to make (that almost killed me) and a fabulous glass crown of seahorses decorating a Rococo grotto.
5) Love that lobster. Move over Salvador, this is much more chic.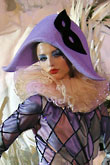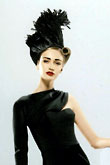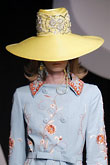 More hats than ever. Beautiful fantasies.
1) From the staggering Madame Butterfly show this bundle of resin origami with a gilded Japanese knot is effortlessly worn by Raquel Zimmerman. Pat's make-up is wild!
2) Dior's 60th anniversary show was staged in Versailles. Michaela looked simply ravishing as Picasso's Rose Period Harlequin.
3) My fave silhouette in homage to artist Réné Gruau who illustrated many of Dior's iconic perfume advertisements of the 50's. A palette in grey suede is pierced with a lacquer brush with the initials CD/JG/SJ. Its paint daubs are in fact deluxe paillette embroidery by Cecile Henri.
4) Prêt-a-porter but superglam. From the 40's inspired winter show, a wartime turban in black raffia.
5) A nod from the cruise collection to Spring 2008. Tart lemon straw sweetened with silver sugar bead embroidery. Yum!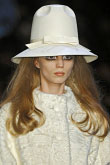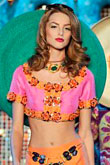 Form, Structure, GO!
1) Homburg in zebra printed pony.
2) High crowned cloche in pony and patent.
3) Haute couture cloche of patent ribbons appliquéd to organza.
4) Broad crowns in Klimt quilted suede.
5) Giant sombreros for cruise in New York.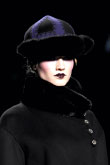 Prêt-a-porter travels from Africa to Byzantium, while haute couture is in a spin.
1) Monsieur Dior's muse Mitza Bricard inspired this cheetah cloche.
2) Zulu 'izicholo' in stitched straw.
3) An onion dome toque in mink and embroidered suede.
4) A scrolled wave in gelatined chiffon.
5) A voluptuous soufflé beret of draped moiré and faille.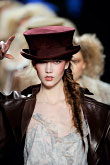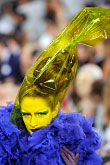 Protect me! Helmets to top hats, even a visor.
1) Ton up girl. A motor bike helmet deluxe. Lambskin and patent lined in silk!
2) Blitz kid. A tin helmet in metallic leather.
3) Tally ho! A glossy top hat with beaded snood.
4) John Bull. A wide top hat in goat suede.
5) Bloomin' marvellous. A bouquet in fluo acetate.
The Galliano millinery touch; light & charming.
1) A pink leather cap for the cruise show in Shanghai.
2) A pin-up dubois in washed cotton.
3) A swansong... a deft Gruau brushstroke in tulle, organza and paradise.
4) Libertine soft blocked fur felt.
5) An oversized panama with matching scarf.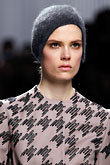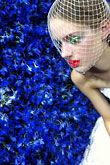 Bill Gaytten's architecture/Raf Simons launch.
1) Katy Perry balances a Memphis cube.
2) A cover-ready leather cloche.
3) Total glamour in a crocodile haute couture bandeau.
4) A snug little cashmere and mohair knit skull-cap.
5) Raf's couture debut: a modern way with a vintage veil.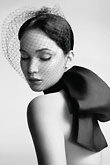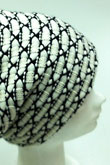 Simple and elegant.
1) Jennifer Lawrence pouts in SJ veil and bow.
2) A sumptuous Persian lamb cloche.
3) Gwyneth Paltrow picture perfect in her bridal bonnet.
4) A jacquard knit beanie.